HubSpot has a new WhatsApp Integration! Keep reading to know why you should use it.
Communication with your customers is now easier than ever! With the new WhatsApp Business Integration to HubSpot, you are now able to easily connect your WhatsApp account and track conversations all through HubSpot. Being one of the most used platforms in the world, customers trust WhatsApp, as all messages and conversations are secure and between the business and the customer through an encryption process.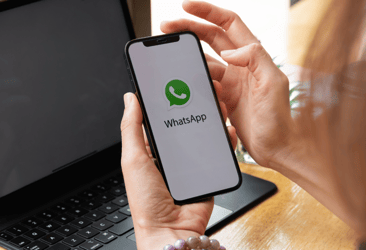 This new integration allows you to manage all your WhatsApp messages from your shared inbox and target customers with automated messages to keep them engaged and informed.
Every message sent to your company's WhatsApp phone number will create a new thread in HubSpot's inbox, opening a new session, which will then opened for 24 hours after the last message from the contact.

If you happen to receive a message from a phone number that already belongs to some contact in HubSpot, the conversation will automatically be associated with that contact.

Besides helping your customers' experience, it also helps your customer service and marketing teams to never miss an incoming message. It is even possible to keep track of every single message by assigning a conversation to a specific user.
Personalized and useful communication from companies is very much valued by customers. Besides only getting the messages they previously agreed to, customers can reply to these, so you can establish a two-way conversation with them and build a more personal connection.
To make your life even more simple, you can prepare template WhatsApp messages beforehand
and send them through workflows. Have your message already prepared and have it sent automatically. Just be sure that the people you are including on the workflow trigger, have consented previously to receiving WhatsApp messages.
Want to know more about this integration? Check out its popular
features, l
imitations and w
hat you need to know before you start using the integration here.