CRM cleansing: 5 things you need to know
2 min read
25 November 2020
You are probably familiar with the situation: problems when sending large emails, duplicate contact data in your CRM, or information about your contacts that you rarely or never need. This is exactly why we always recommend taking a good look at your CRM every six months. Are your contacts up to date? Do customers still read your emails? And is there any incorrect data that can be repaired? In short: when you are doing inbound marketing, a clean CRM is crucial. In this blog, we will be looking at 5 things you need to know when cleaning up your CRM.
1. Be consistent
It may seem like a small detail, but it can bring many benefits. Consistent use of capital letters and a single clear approach to writing down telephone numbers or addresses: these are useful tips that will save your company a lot of time and frustration.
What are the possible consequences? Personalized emails without capital letters in the name can cause frustration. And what about account managers who have to work with incorrect contact details because they have not been entered properly? The solution is simple: be consistent!
2. Pay attention to special characters
After exporting data from external software, unwanted characters can cause problems. Some examples: Ã, ¢, â, ê. These characters do not usually pop up as a result of human action, but rather when exporting and importing data on a large scale, for example, when moving from your old CRM system to HubSpot.
Insycle is an excellent tool that you can use to get started on cleaning up this data. This offers a range of benefits: from better personalization in your emails to drastic improvements in your email open rates, because more emails arrive where they should!
3. Standardization is the norm
Do you work with huge data sets? And can many of your customers' properties be reduced to a fixed number of options? Then make sure that contacts have choice options in forms. The more open fields you create, the harder it becomes to maintain your CRM properly and use it for focused targeting.
You can standardize many properties retrospectively. Such as job level ('management' or 'operational'), sector ('cosmetics' or 'software') and business size (1-10, 10-50 and 50-100, etc.).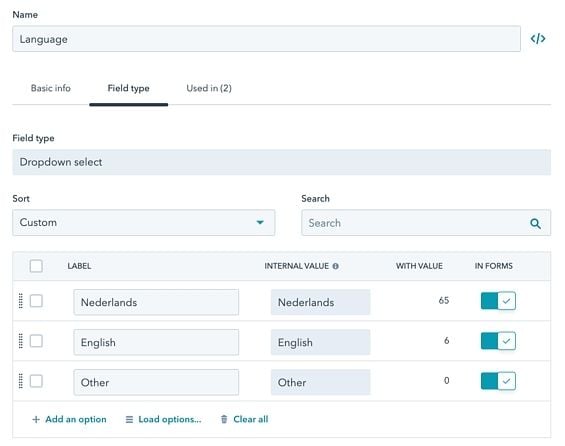 4. Don't be afraid to delete unnecessary data
Is "Maybe we will need that data one day" a familiar statement in your organization? In reality, this is rarely true, however. Uninterested contacts will not suddenly become interested in your products. And an email address that no longer exists will never successfully receive an email from you again.
Databases double in size every 12 to 18 months. Enough reason, in other words, to make sure that you take a long, hard look at your data once every six months. After all, maintaining your database involves costs because you start paying more as soon as you expand your database by big steps. So, cleansing saves you money!
5. Merge data
Multiple sales reps working in the CRM, customers who change employers or companies changing names; three reasons why contact and company data could be duplicated in your database. Fortunately, HubSpot has the functionality to filter and merge (or, if necessary, delete) duplicates. So, pay attention to this when cleansing your database.
With these 5 tips, you will be ready to give your CRM a thorough clean-up. Want to know what we can do for you and what other ways you can use HubSpot's CRM as part of a successful inbound marketing strategy?